Main page
»
New Products
»
RC Tank King Tiger Henschel Tower 1:16 Heng Long Professional Line IR / BB (Amewi)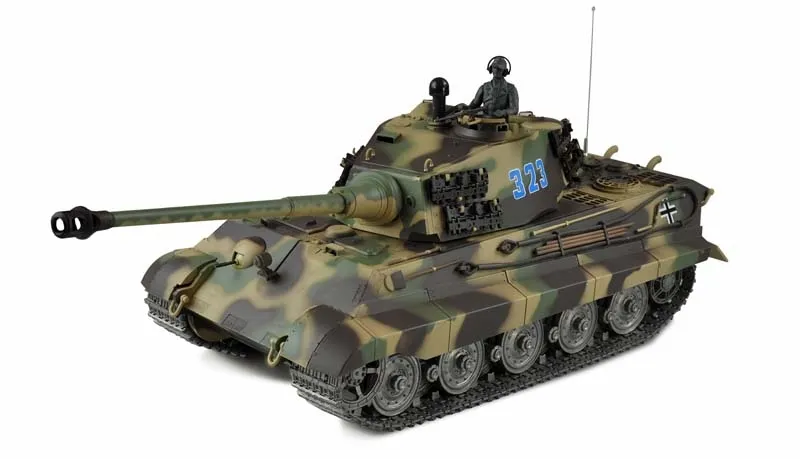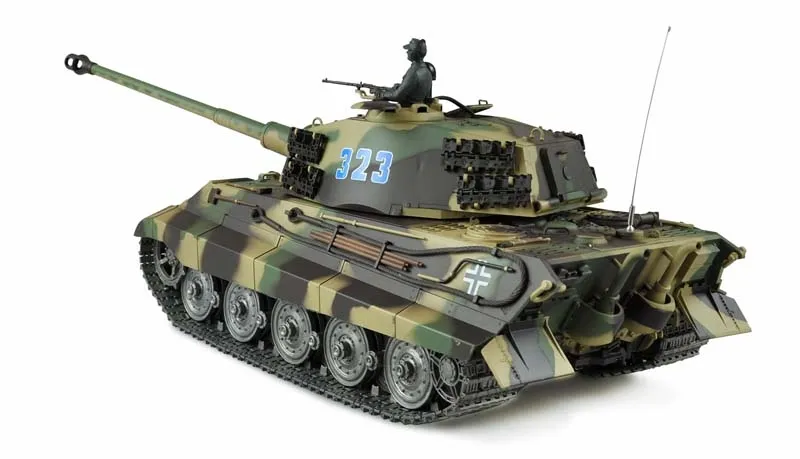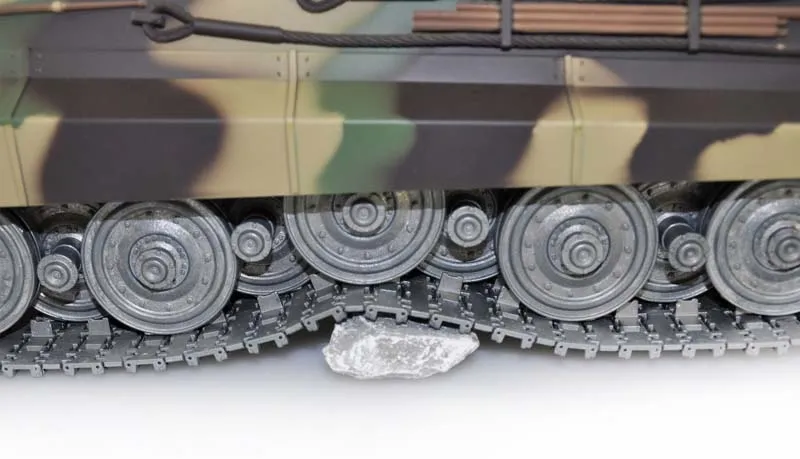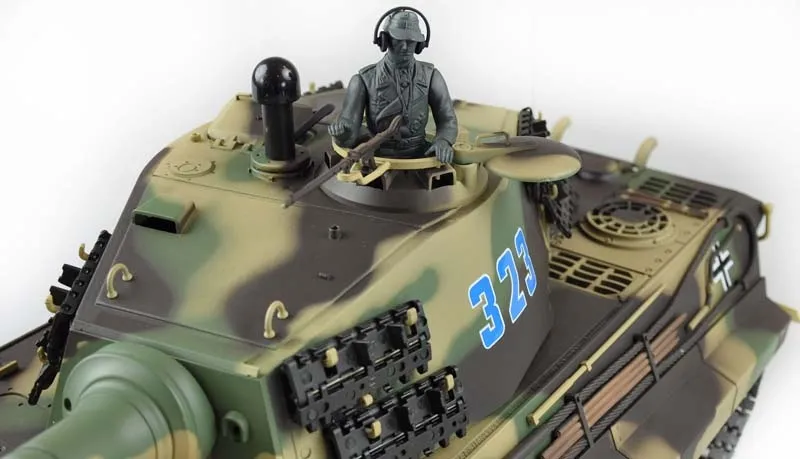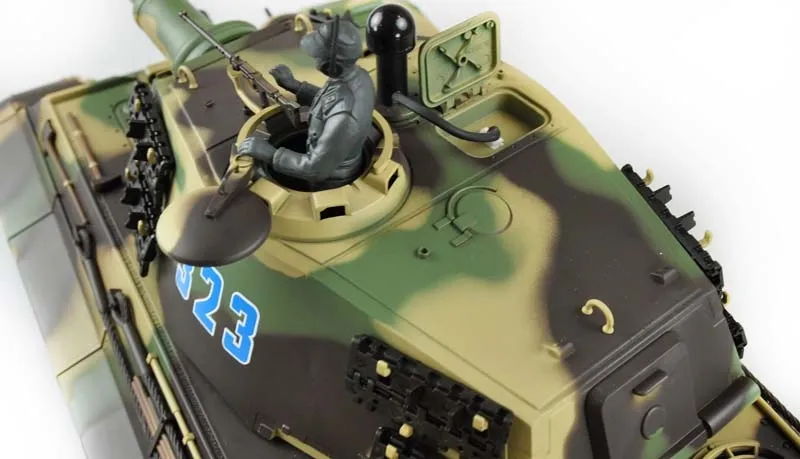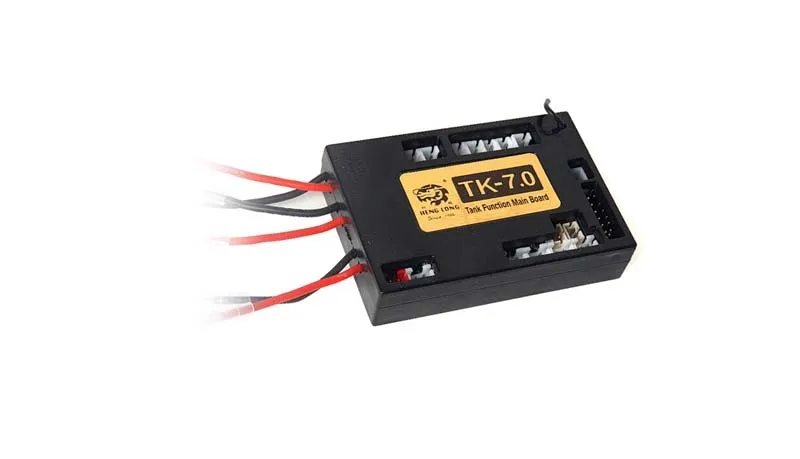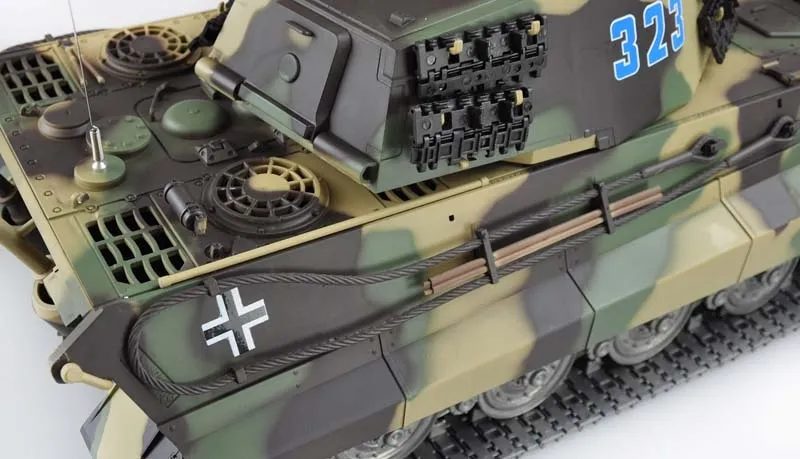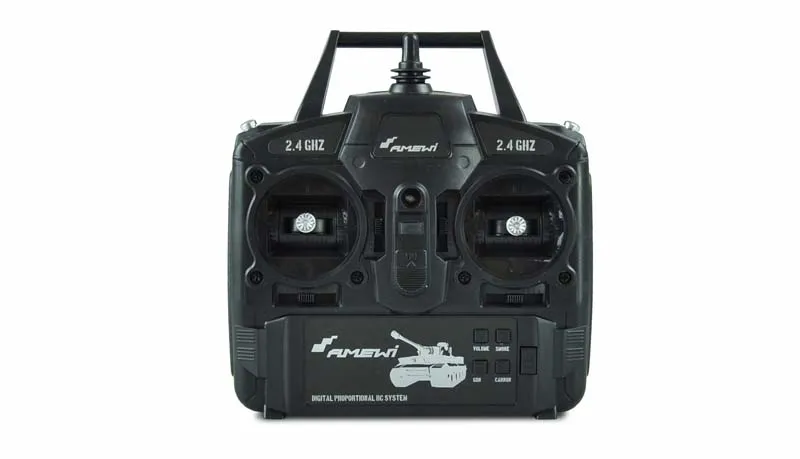 RC Tank King Tiger Henschel Tower 1:16 Heng Long Professional Line IR / BB (Amewi)
RC Tank King Tiger Henschelturm 1:16 Heng Long Professional Line IR / BB (Amewi)
The armored car VI, better known as Tiger II or king tiger, was an improved version of the heavy tiger tank. In the Second World War he was considered the best tank of the German Wehrmacht. The 8.8cm cannon gave the king tiger a huge firepower. The first 50 copies received the tower developed by Porsche before only the narrowing tower was installed by Hentschel.

The Amewi Edition is a true replica in the scale 1:16, delivered in a massive real wood box in the representative style of a natural-colored ammunition box. RTR - READY TO RUN. The tank has a smoke and sound function as well as a lighting system for even more convincing experience worlds. The shot function is done by means of a joystick and pushbutton, via which 6mm BB hard plastic floors can be shot up to 15m far. The cannon can be moved up and down, all control functions are proportional and thus sensitively controllable. In addition, the model has an infrared combat module, which allows two-fighting with other tanks from this Amewi Edition. With a direct hit by an opponent, the tank made is once visible 'shaken'.
The model is powered by two strong engines, which transmit their force via a multi-stage metal gear to the drive wheels. The entire running set is just as made of metal as the chains themselves. The gearbox is also encapsulated inside (covered). All wheels on the chassis are associated with metal wings with the chassis and damped.
This faithful model with its camouflage painting is in no way to the real tank. The total scope of delivery corresponds to the latest technology (Electronics TK 7.0). From now on we deliver all models with a contemporary LiPo battery with 1800mAh and 7.4V. A matching LiPo charger is already included with the set.

The model was checked for functionality before packaging and a functional protocol is included. Delivery takes place in a solubot box with custom-made styrocorker.

Functions:
Forward backward
Left Right
Turn on the spot
Cannon: high / down
Tower: Rotation
Shot function
Infrared combat module
Smoke & Sound
lighting

Highlights:
Super Scale optics (very detailed)
Latest Electronics (TK 7.0)
Infrared battle system for exciting double strikes with other models from our assortment

Other features:
2 strong electric motors
Steamed metal swing for the wheels
Multist-level encapsulated metal gear gear for perfect
Power transmission on the metal chains
Complete running set in metal
Strong 7.4V Li-Ion drive battery with 1800mAh and XT60 connection
220V charger with 850mAh output and balancer connection
Many growing and accessories included in the scope of delivery such as e.g. driver figure, chains, mg etc.
Switchable sounds over the sound module such as MG sound, shot function and driving noise

Technical specifications:
Scale: 1:16
Total length: 650mm
Length without cannon: 460mm
Width: 240mm
Height: 190mm
Weight: 4763g without battery
Color: camouflage
Rollers: metal
Chains: metal
Tub: plastic
Tower: plastic
Turning ring: 360 ° turning ring
Gearbox: encapsulated metal gear
Version: RTR
Driving time: approx. 10 - 15 minutes
Electronics: TK 7.0
Battery Dimensions: 135x45x24mm
Battery: Li-Ion 2S 7.4V 1800mAh Softcase, XT60 LXBXH: 70x36x21mm Weight: 93g
Remote control: 2.4GHz
Reach: about 100m
Charger: 2S Li-ion / LiPo Charger 220V with balancer connection and 850mAh output
Charging time: about 2 hours

Scope of delivery:
tank
Remote control 2.4 GHz
Battery 7.4V 1800mAh Li-ion
Plug Charger Lipo / Li-Ion 850mah
Ammunition 6mm BB
Smoke fluid
sticker
attachment parts
figure
Instructions DE / EN

Note:
The wooden box is a bonus and does not apply to complaint in case of any, outer damage to the real wood box.
Product reviews can only be submitted by registered customers. Every rating is checked by us. Rated products were also purchased by the customers displayed.
Unfortunately there are no review yet. Be the first who rate this product.