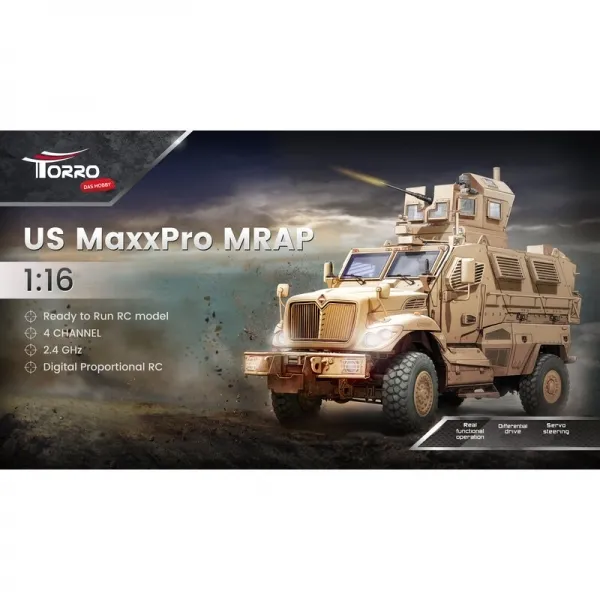 The Maxx Pro was developed specifically for the U.S. Marine Corps in the U.S. Military's Mine Resistant Ambush Protected vehicle program and belongs to the MRAP (Mine Resistant Ambush Protected) vehicle class.
This means that the Maxx Proo MRAP is resistant to mines due to its armored body and thus protected against ambush attacks.
The Maxx Pro has a weight of about 13.4 tons and room for up to 7 soldiers.
Since July 2007 approx. 9.000 Maxx Pro have been delivered.
Details/Scope of Delivery:
1/ 16 RC Torro Maxx Pro MRAP

RC Remote Control 2.4 GHz

Light and sound

Servo steering

360° turret rotation

Dimensions (in mm): ca 400 x 160 x 250

Attention:

Battery and Charger not included
Can be ordered under item number: SP-20001
Due to the original design, filigree parts are installed which can be damaged if they are not handled properly or drive against obstacles.
These damages are excluded from warranty and are not accepted as a reason for return.
Warnings
Used under the direct supervision of an adult
Recommended age: 14+
Not suitable for children under 36 months of age. Choking hazard due to small parts.
Product reviews can only be submitted by registered customers. Every rating is checked by us. Rated products were also purchased by the customers displayed.
Unfortunately there are no review yet. Be the first who rate this product.