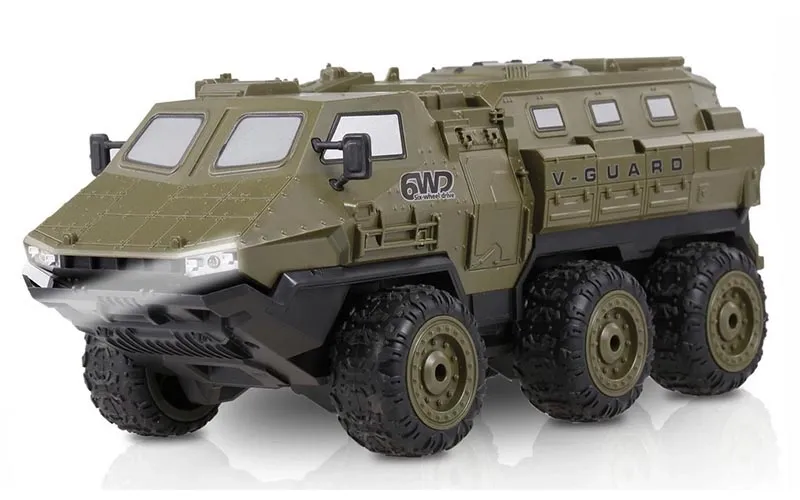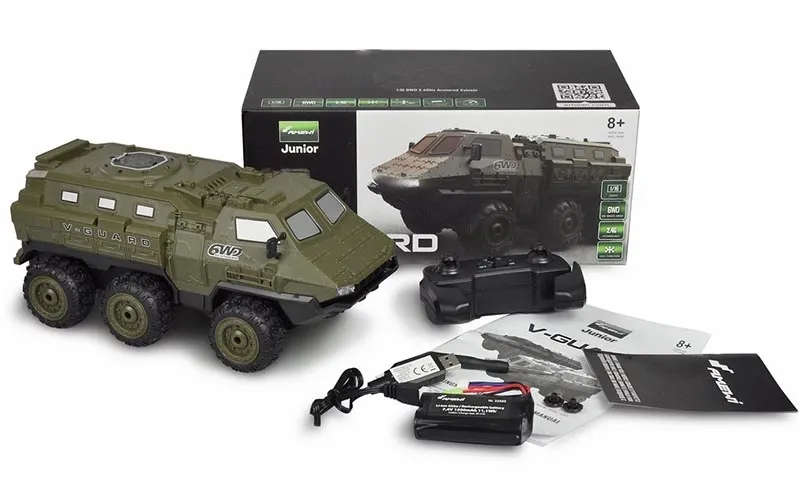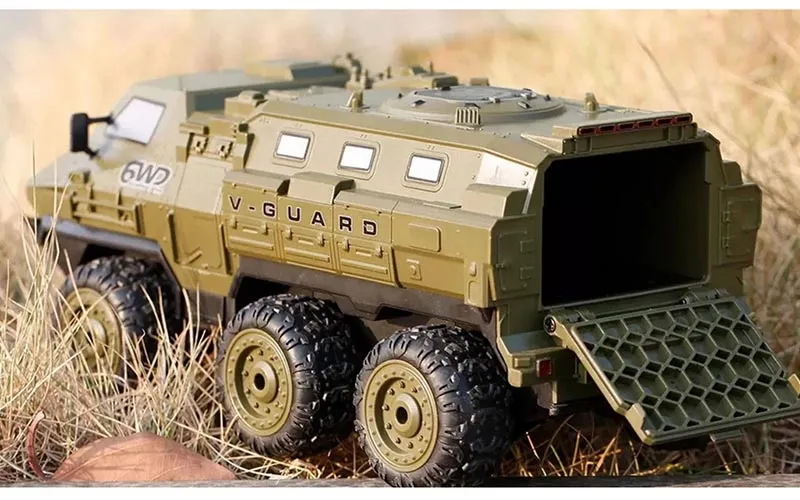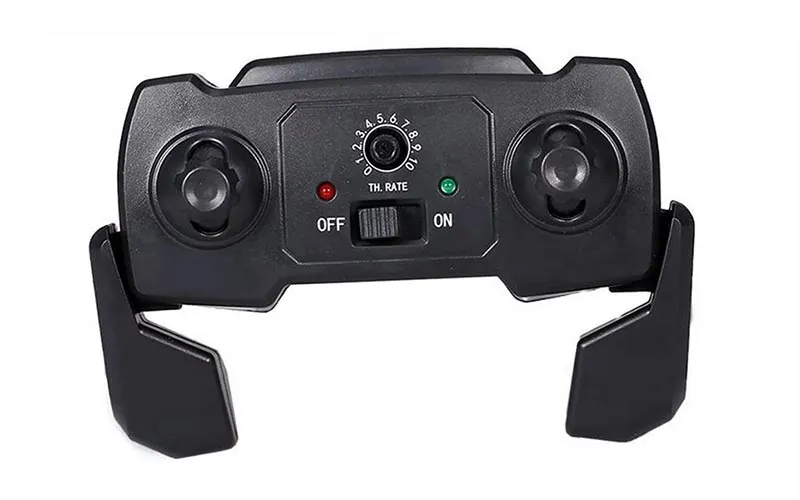 Amewi V-Guard armored vehicle 6WD 1:16 RTR, olive green



Amewi V-Guard armored vehicle 6WD 1:16 RTR, olive green.

This 1:16 scale replica of an armored troop carrier used by the military or even the police impresses with its robust construction, six-wheel drive (6WD) and a relatively high top speed of up to 20km/h. Thanks to non-slip rubber tires, high traction is ensured at all times. The V-Guard overcomes inclines of up to 60 degrees effortlessly. As with the chain drive, the three wheels on one side of the vehicle are driven simultaneously, so the model can even turn on the spot by steering in opposite directions. The driving functions forward, backward, left, right, and turning on the spot can be controlled proportionally.

A large storage space, for example, for transporting game pieces, contraband or the like, is revealed when the tailgate is opened by hand. Two bright LEDs at the front provide optimal illumination of the operational area. The modern, interference-free 2.4GHz remote control with fold-out handles in gamepad look provides a stable grip. A special feature is that the maximum achievable speed can be throttled down as desired via a small gear wheel on the transmitter.

Available as an RTR (Ready-to-Run) version, everything needed to operate the model is already included in the scope of delivery - except for household batteries for the remote control. The included Li-Ion battery allows long driving time of up to 30 minutes depending on driving style and route profile. Thanks to USB charging cable, the troop carrier can be quickly made ready to drive again for the next mission.

Highlights:
6WD (six-wheel) drive: model climbs inclines of up to 60 degrees
Proportional steering: High maneuverability in the field provides even more driving fun
Large Li-Ion battery: Depending on driving style and route profile, driving times of up to 30min are possible

Other features:
Scale optics
2.4GHz remote control with speed setting option
LED lighting in front
Large lockable cargo area
Six rubber tires for high traction

Technical data:
Scale: 1:16
Length: 280mm
Width: 130mm
Height: 120mm
Weight incl. battery: 728g
Main material: plastic
Wheelbase 160mm
Li-Ion battery 7,4V 1.500mAh, Mini-Tamiya connector, 70x36x22, 82g
Driving time: up to 30min
Top speed: about 20km/h
Remote control: 2,4GHz
Range: approx. 30m
Charger: USB cable
Charging time: approx. 180min

Scope of delivery:
Model
Remote control 2,4GHz
Battery
USB charging cable
Instruction manual DE/EN/FR/IT

Required accessories:
2x AA 1.5 V batteries for the remote control

Note:
The remote control is in the delivery state in the transport box of the vehicle.

Product reviews can only be submitted by registered customers. Every rating is checked by us. Rated products were also purchased by the customers displayed.
Unfortunately there are no review yet. Be the first who rate this product.