Main page
»
New Products
»
RC Tank T-72 ERA Heng Long 1:16 Smoke&Sound Steel Gear Metal Tracks 2.4Ghz V 7.0 PRO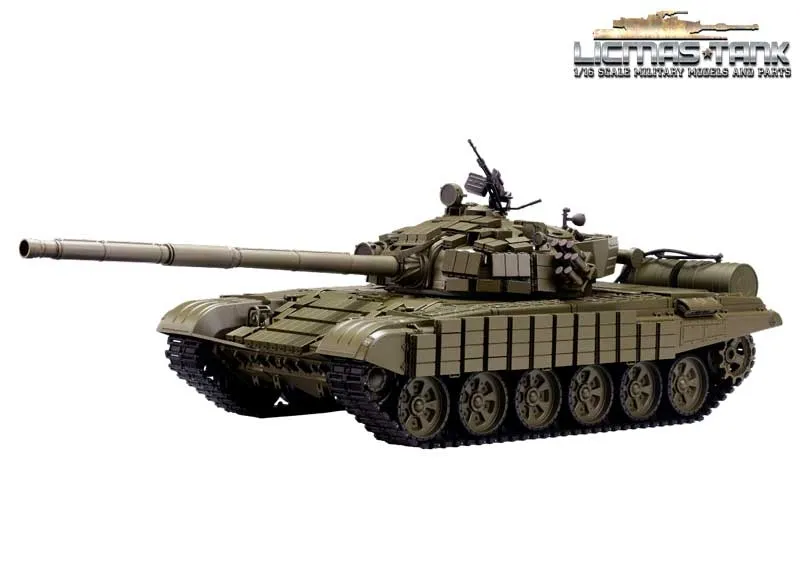 RC Tank T-72 ERA Heng Long 1:16 Smoke&Sound Steel Gear Metal Tracks 2.4Ghz V 7.0 PRO
RC Tank Russian T-72 ERA Heng Long 1:16 Smoke&Sound Steel Gear 2.4Ghz V 7.0 PRO

Now new - ERA Version!!!
(Picture shows variant with plastic chains, the variant offered here offers: Metal tracks, metal guide and drive wheels, metal track rollers, metal steering knuckles - all unpainted in silver as well as steel gears made of cast steel!)
Tank model, fully remote controlled and with launch function! The racer for young and old!

With powerful engines, virtually indestructible gearbox and outstanding quality!

A faithful replica of the original

Due to its chain drive, the tank is very suitable for off-road use. Gradients are mastered without any problems. The T-72 is equipped with headlights that light up while driving. The turret can be turned 320° with the remote control, also the cannon can be raised and lowered. With the launch buttons, up to 100 bullets can be fired individually, even while driving. Bullets have a range of approx. 25m (depending on the angle)! The wheels are fully sprung!

The Pro model:

Now with steel gearbox and 2.4Ghz remote control.
Chains, all running, guide and drive wheels and steering knuckles are also made of metal
Version 7.0 - fully proportional

New with version 7.0:

BB-shot and infrared combat functions selectable
The steering knuckles are now made of metal
With chain tensioner
The wheels now have real ball bearings
4 different tank sounds
Improved and more precise steering
Headlights and brake lights (T72 not have brake lights) can now be switched on and off
Recoil function can now be set in 3 levels
Fast and slow driving modes can be selected
Machine gun light can be turned on and off
Straight ahead driving is now more stable

Technical data:

Model: R/C tank Russian T-72 with smoke and sound
Scale: 1:16
Motor type: electric motor
Power supply: 7,4V 1800mAh Li-Ion battery
Charging time: approx. 2 hours
Driving time: up to 60 min.
Tracks: 4.5cm wide, spring-loaded castors
Lighting: 2 headlights in the front which light up while driving
BB firing function
Dimensions (LxWxH): approx. 650mm x 237mm x 275mm
Remote control: Forward / backward normal and HIGH SPEED, forward left or right rotation, backward left or right rotation, cannon raise and lower, turret rotates 320° (160° right / 160° left), ammunition firing also while driving
Frequency: fully proportional remote control with 2.4Ghz, so you can drive several tanks at the same time without interference

Special features:

Recoil when firing
Sound effects
Volume control of the tank on the remote control
Smoke function can be switched off on the remote control
2,4Ghz system
Metal gearbox made of steel

Scope of delivery:

R/C tank Russian T72 with smoke and sound, with metal gearbox
2,4Ghz remote control programmable
Battery 7,4V 1800mAh Li-Ion
Charger
approx. 200-230 rounds of 6mm ammunition
Target
Sticker set
Small parts / accessory set
Instruction manual
One bottle of smoke liquid
Product reviews can only be submitted by registered customers. Every rating is checked by us. Rated products were also purchased by the customers displayed.
Unfortunately there are no review yet. Be the first who rate this product.