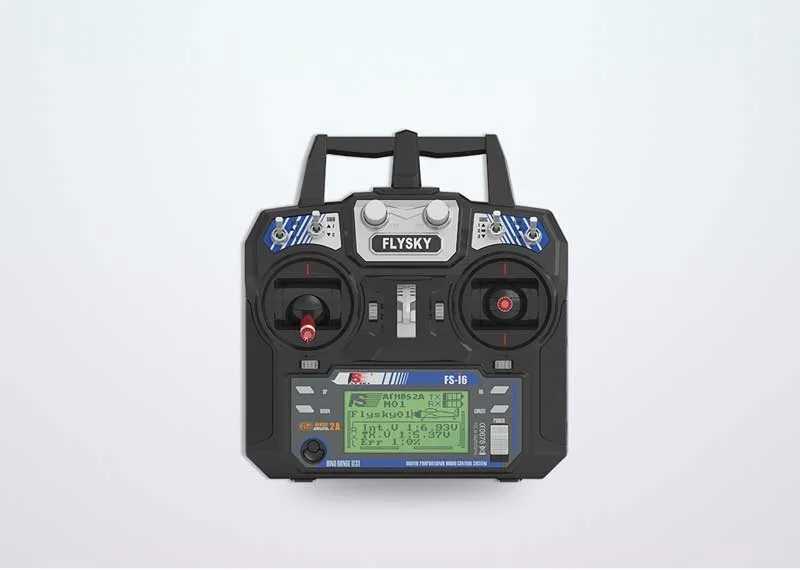 Tank remote control Fly Sky 2.4 GHz FS-i6 AFHDS 2A 6CH with receiver

Tank remote control Fly Sky 2.4 GHz FS-i6 AFHDS 2A 6CH with receiver
The FS-i6 is an entry-level transmitter.

Featuring the AFHDS 2A protocol, upgradeability (up to 10 channels) as well as Chinese and English firmware versions.

AFHDS 2A, AFHDS protocols

6 channels (can be upgraded to 10 channels)

Chinese and English firmware
Product Model: FS- i6
Channels: 6 Models: Tanks / fixed wing / glider / helicopter / boat
Wireless frequency: 2.4GHz
Transmission power: <20 dBm
Wireless protocol: AFHDS 2A
Range: 500 ~ 1500m (in the air)
Channel resolution: 4096
Battery: 1.5AA * 4
Charging port: None
Low voltage alarm: < 4.2V
Antenna type: dual antenna
Display: STN transflective display, LCD 128x64 dot matrix,
Language: Chinese and English
Data port: PS / 2 (PPM)
Temperature range: -10 ℃ — + 60 ℃
Humidity range: 20% -95%
Online Update: Yes
Remote Control Color: Black
Dimensions: 174x89x190mm
Weight: 392g
Certification: CE, RCM, PAHS, FCC ID: N4ZFLYSKYI6
Product reviews can only be submitted by registered customers. Every rating is checked by us. Rated products were also purchased by the customers displayed.
Unfortunately there are no review yet. Be the first who rate this product.